Protect against damage from foot traffic
Our door protection systems help you increase your profitability.
Preventing damage to stairs and doors is less costly and labour-intensive than repairing them once harm has been done.
Our range of products can help you to prevent:
Scuffs and scratches while your people are moving equipment through doorways or working near them.
Damage to stairs while your works are moving between decks.
Damage during hot work (ask us about our range of non combustible high-temperature textiles – 550°C to 1300°C )
Door protection
Our door protection systems are heavy duty and flame retardant. They're sealed on three sides and closed with a watertight fastening system. Additional impact protection can be fixed to sleeves to protect finished surfaces.
Protec Marine door sleeves and protectors can be placed on doors before they're installed and kept in place once the door is hung.
We also supply door jamb protection in flame retardant cushioned foam. It's pre-slit and can be fitted in a few seconds, without taping, on any size of casing.
Stair protection
Protec Marine staircase protector is light-weight, yet hard-wearing. It's also versatile, because it can be cut to size and folded to create the right angle for the stair nosing and riser.
With our special adhesive tapes, these flame retardant protectors can also be used externally, even in wet areas.
Our tread protector is strong, resilient and rigid to withstand even the toughest site traffic. It's pre-formed and fits securely on the tread. It can be easily fixed with nails, strapping or tape – and can be removed for re-use.
Stairs & Doors Temporary Protection examples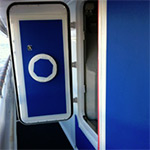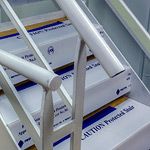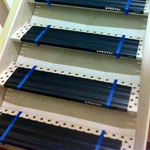 Protec Marine's products can help you protect:
External stairs and doors
Internal stairs and doors
Designed precisely for your needs
Do you have a special temporary protection requirement? Protec Marine can develop custom-designed protection materials for your specific application.
Don't feel the heat
Our products are supplied with all relevant flame retardancy certification, so that they are compliant with your insurance requirements. Each product is also audited by external parties on a yearly basis to guarantee consistency.
Eco-friendly
All of our products can be re-used and recycled.
Our products, your company logo
Several of Protec Marine's products can be printed with your logo and messages in multiple colours.