Protect all types of internal floors
Preventing damage to internal floors – where you always get the heaviest foot traffic – is less costly and labour-intensive than repairing them once harm has been done.
Our range of products can help you prevent:
Wear and tear from heavy foot traffic
Stains from dust, dirt, paint, etc.
Impact damage from falling objects
Scratches, scuffs or rips caused when equipment and machinery are moved over the floor
Damage during hot work (ask us about our range of non combustible high-temperature textiles – 550°C to 1300°C )
You can select tough, reinforced waterproof materials that are resistant to punctures, rips and tearing. Our products also save you time as they're flexible, easy to fit and remove, and require little jointing and taping.
Our internal floor protection systems are available in rolls, sheets or tiles of different dimensions to suit all internal floors, and all protection requirements.
Internal Floor Temporary Protection examples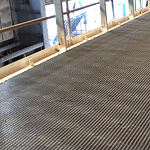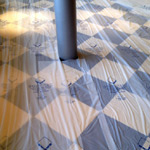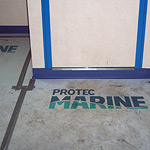 Protec Marine's products can help you protect:
All types of internal floor surfaces, such as carpet, wood, ceramic tiles, marble, vinyl, etc.
High-value painted floors in engine rooms and bilges
Designed precisely for your needs
Do you have a special temporary protection requirement? Protec Marine can develop custom-designed protection materials for your specific application.
Don't feel the heat
Our products are supplied with all relevant flame retardancy certification, so that they are compliant with your insurance requirements. Each product is also audited by external parties on a yearly basis to guarantee consistency.
Eco-friendly
All of our products can be re-used and recycled.
Our products, your company logo
Several of Protec Marine's products can be printed with your logo and messages in multiple colours.