Get a grip on handrail damage
Our Handrail and Rail protection systems help you cut repair costs.
Preventing damage to handrails and rails is less costly and labour-intensive than repairing them once harm has been done.
Our range of products can help you to prevent:
Scratches and scuffs
Stains from paint or other chemicals
Impact damage while your people are working on board
Damage during hot work (ask us about our range of non combustible high-temperature textiles – 550°C to 1300°C )
Our products are flexible and pre-slit. This makes them easy to fit and remove. Plus, they're hard-wearing and re-useable to save you even more money.
The protectors are available in flame retardant material such as cushioned foam. They are lightweight, and come compactly packed in different lengths and widths to fit all sizes of handrails.
Equipment & Fittings Temporary Protection examples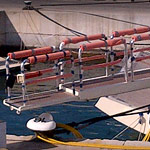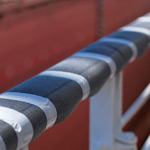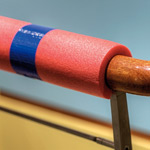 Protec Marine's products can help you protect:
Internal and external handrails and rails in stairways, passageways, engine rooms, crew areas, public areas, etc.
All types of handrail and rail finishes such as wood, stainless steel, powder-coated, etc.
Designed precisely for your needs
Do you have a special temporary protection requirement? Protec Marine can develop custom-designed protection materials for your specific application.
Don't feel the heat
Our products are supplied with all relevant flame retardancy certification, so that they are compliant with your insurance requirements. Each product is also audited by external parties on a yearly basis to guarantee consistency.
Eco-friendly
All of our products can be re-used and recycled.
Our products, your company logo
Several of Protec Marine's products can be printed with your logo and messages in multiple colours.