Prevent damage to decks
Our deck protection systems help you save money.
Preventing damage to decks is less costly and labour-intensive than repairing them once harm has been done.
Our range of products can help you to prevent:
Stains from water, chemicals and oil
Impact damage or scratches while your people are working on deck (safely, because our products have an anti-slip finish)
Damage during hot work (ask us about our range of non combustible high-temperature textiles – 550°C to 1300°C )
You can select tough, reinforced waterproof materials that are resistant to punctures, rips and tearing. Our products also save you time as they're flexible, easy to fit, easy to remove, and require little jointing and taping. They are either re-usable or recyclable and all are environmentally friendly.
Our deck protection systems are available in rolls, sheets or tiles of different dimensions to fit all decks and requirements.
Deck Temporary Protection examples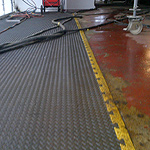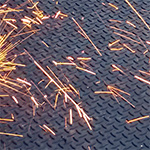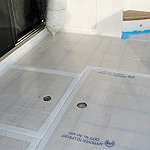 Protec Marine's products can help you protect:
Different deck surfaces: steel, wood, anti-slip and painted surfaces, etc.
Special areas such as helipads, flight decks, swimming pools, public areas, etc.